IBM released Engineering Lifecycle Management 7.0 for general release today, and while we've covered Requirements Management with DOORS Next in some detail, we wanted to also cover highlights of the rest of the suite.
Engineering Lifecycle Management
Name Changes
All of the applications have had their names changed, for better or for worse. I think some of these are going to have a hard time sticking. That said, here are the new names across the board:
| | | | |
| --- | --- | --- | --- |
| Old Name | Old Acronym | New Name | New Acronymn |
| Rational or Collaborative Lifecycle Management or Continuous Engineering | CLM or CE | IBM Engineering Lifecycle Management | ELM |
| Rational DOORS | DOORS | DOORS Family | DOORS |
| Rational DOORS Next Generation | DNG | DOORS Next | DOORS Next |
| Rational Rhapsody | — | Rhapsody | — |
| Rational Rhapsody Design Manager | RDM | Rhapsody – Design Manger | RDM |
| Rational Rhapsody Model Manager | RMM | Rhapsody – Model Manager | RDM |
| Rational Quality Manager | RQM | Engineering Test Management | ETM |
| Rational Team Concert | RTC | Engineering Workflow Management | EWM |
| Rational Publishing Engine | RPE | Publishing | PUB |
| Rational Engineering Lifecycle Manager | RELM | Engineering Insights | ENI |
| Rational Method Composer | — | Method Composer | MEC |
The above is not the official IBM names to a T–I've slightly abbreviated some things. Keep that in mind.
New Look And Feel
The product banner looks much more modern.
Engineering Test Management
Clustering with Liberty Server
In theory this will improve performance. Please contact us or leave a comment below if you're using this feature.
Improved Test Execution Performance
500 adapters running in parallel are supported! Pretty huge improvement there.
Mail Notifications
I actually developed a workaround for not having this years ago. It's finally in the tool, fully supported!
LQE Manage Skipped Resources
You can ignore individual resources when LQE fails on a given artifact. Again, big improvement here.
Customize The "Related Information" Panels
I've never had a client ask for this, but I'm glad this is there.
Engineering Workflow Management
Improved Git Integration
Command line script to make installation easier available for Node.js and Gitlab servers.
Integration with Bitbucket server
New process preconditions for Git Push operations
Duplicate a Change Set
This is interesting and I am not sure of why you would want to do this, but you can duplicate an active change set in Eclipse and Visual Studio.
Improved Look and Feel for Quick Planner and Program Board
The program board in particular looks fantastic! Of note, color tags are supported as well.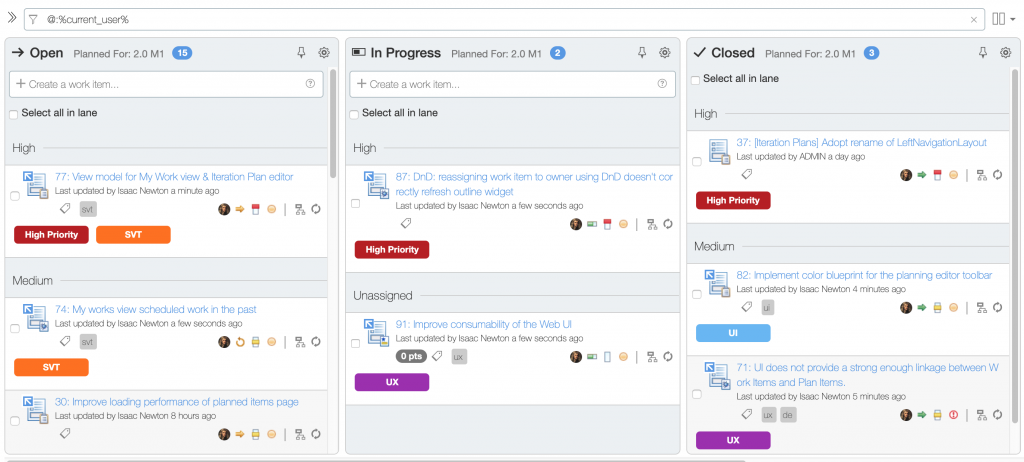 Publishing (Previously Rational Publishing Engine)
Unfortunately, there's not much to report here as far as our interests. The improvements appear to have all gone to Document Builder and not to the Publishing thick client.
As an aside, it's going to be very difficult for me to call it just "Publishing." Really wish Publishing Engine had stuck instead.
Jazz Report Builder (JRS)
Custom Expressions Support Multiple Attributes
Previously, a report author could only create a custom column with a calculation on a single attribute. For instance, it was not possible to calculate a RPN for an FMEA-style report by creating a custom column that inspected both Likelihood and Occurence. You could only make a column that say, truncated Likelihood and that's it. This was a *severe* limitation.
Enter version 7.0!