The gridFrame turns your iPad into a different kind of digital photo frame. The concept is based on the iPhoto gridSaver for Mac, which itself is based on the iTunes Artwork Screensaver shipped with OSX. What does it do? Watch this super cool trailer to find out! I Don't Like To Watch Videos. OK. The gridFrame takes the photos on your iPad and presents them in a grid. Every so often one of the photos on the grid flips and reveals a new photo. Don't want to wait for the flip? Just touch a photo yourself and watch it flip. It's a pretty cool way to check out your photos on the iPad. But you should really watch the video to see it in action. These pictures don't do it justice.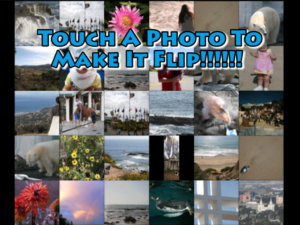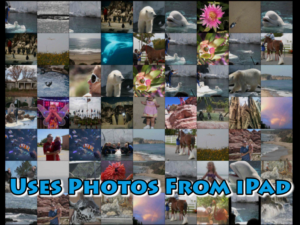 I Must Buy This now! The gridFrame is available exclusively on the App Store.
What's New in Version 1.2 We FINALLY support both portrait and landscape orientations! We also made a few "under the hood" improvements.
What's New in Version 1.1
iOS5 ONLY! Do not update if you're not on iOS5. This version adds a preference in the Settings to hide photos in the PhotoStream. It's OFF by default. Turn it on to see photos in the PhotoStream. Added an Activity Indicator at launch as well.